Yadi000.Blogspot.Com - Selamat Pagi Sobat Yadi000 Blog, Kali ini saya Akan SHARE sebuah Aplikasi yaitu ANY VIDEO CONVERTER v5.5.0.4. Mungkin Anda Bertanya2.. Software apa ini, dari namanya sendiri ada kata Converter, Yang berasal dari kata Convert yang artinya Mengubah. DI sini software ini Mampu Mengubah file Video Menajadi MP3 dan dalam bentuk lain juga.
Software Ini Tidak terlalu besar. -+ 35 MB, dan Manfaatnya banyak Sekali... Support Convert Untuk berbagai jenis Device dan Output Format, Untuk lebih Lanjut, silahkan lihat di bawah ini untuk support covert dari aplikasi ini.
3g2, 3gp, 3gpp, 3gp2, amv, asf, avi, avs, dat, divx, dv, dvr-ms, f4v, flv, m1v, m2p, m2t, m2ts, m2v, m4v, mkv, mod, mov, mp4, mpe, mpeg, mpeg2, mpeg4, mpg, mpv, mts, nsv, ogg, ogm, ogv, qt, rm, rmvb, tod, trp, tp, ts, vob, vro, wmv, webm
Supported Output Formats
wmv, mpg, mp4, avi, asf, m2ts, 3gp, 3g2, flv, mkv, swf, webm, html5 webm, html5 ogg, html5 mp4
Audio Formats
mp3, ogg, wav, aac, m4a, wma
CD-R, CD-RW, DVD-RAM, DVD+R, DVD+RW, DVD+R Dual Layer, DVD-R, DVD-RW, DVD-R Dual Layer, random access writes
Image Format
png
Devices
iPod, iPod Nano, iPod Classic, iPod 480p TV out, iPod 576p TV out, iPod Touch, iPhone, iPhone 4, iPhone 4S, iPhone 5, iPhone 480p TV out, iPhone 576p TV out, iPad, iPad 2, the New iPad, iPad 480p TV out, iPad 576p TV out, iPad 720p TV out, iPad 2 1080p TV out, Apple TV
Sony PSP MPEG-4, Sony PSP MPEG-4 AVC, Sony PS3(480p), Sony PS3(720p), Sony PS3(1080p), Sony Walkman MPEG-4, Sony Walkman MPEG-4 AVC, Sony Walkman WMV9
Microsoft Zune, Xbox 360, Dell Axim 51, Dell Axim 51V, HP iPAQ hw6500, HP iPAQ hx2000, HP iPAQ rx3000, HP iPAQ rx1900, HP iPAQ hx4700, Palm Treo, HTC Touch Diamond, General Pocket PC, Nokia Lumia 710 4G
Google Android, Google Nexus One, Kindle Fire HD, Sony Ericsson Xperia, HTC Desire, IS01, LYNX SH-10B, Samsung Galaxy S II, Samsung Galaxy S III, Samsung Galaxy Note, Amazon Kindle Fire, Motorola Xoom, Samsung Galaxy Tab, HTC Flyer, Dell Streak 10 Pro, Asus Eee Pad Transformer, LG Optimus Pad,Acer Iconia Tab,Creative ZiiO A500,Viewsonic Viewpad 7,Creative ZiiO,Toshiba Regza Tablet
Samsung Galaxy S II,Samsung Galaxy Note,Samsung Galaxy Tab,Samsung Fascinate,Samsung Galaxy Nexus S,Samsung Infuse, Samsung Epic 4G, Samsung Focus
HTC One Series (HTC One S/HTC One V/HTC One X), HTC Flyer, HTC Desire, HTC Diamand, HTC HD2, HTC HD7, HTC Wildfire, HTC Aria, HTC Inspire 4G, HTC EVO 4G, HTC Sensation 4G
Blackberry Playbook, BlackBerry Torch, BlackBerry Smartphones including Storm 9530, Storm 9500, Curve 8900, Bold 9000, Pearl 8100, Pearl 8110, Pearl 8120, Pearl 8220, Curve 8300, Curve 8310, Curve 8320, Curve 8350i, Pearl 8130, Curve 8330, Curve 8830
All video supported Nokia Smartphones including Nokia Lumia 900, Nokia Lumia 800, Nokia Lumia 710 4G, Nokia N97, Nokia N96, Nokia N95, Nokia N8-00, Nokia E71/E72, Nokia E7-00, Nokia 8800 Gold, Nokia 6260 Slide, Nokia E63, Nokia 2330, Nokia 7100, Nokia 2323, Nokia 5800 and so on.
Motorola Xoom, Motorola DROID RAZR, Motorola Atrix 2, Motorola DROID 3, Motorola Photon 4G, Motorola DROID BIONIC, Motorola Triumph
LG Optimus Pad, LG ENV TOUCH, LG Revolution 4G, LG THRILL, LG NITRO
Mobile Phone 3GP, Mobile Phone 3GPP2, Mobile Phone MPEG-4, Nokia N-Series
Nokia Lumia 710 4G, Dell Axim 51, Dell Axim 51V, HP iPAQ hw6500, HP iPAQ hx2000, HP iPAQ rx3000, HP iPAQ rx1900, HP iPAQ hx4700, Palm Treo, HTC Touch Diamond, General Pocket PC
Archos 105, Archos 404, Archos 405, Archos 504, Archos 604, Archos 605, Archos 705, Archos TV+, Archos AV500, Archos AV700
Creative Zen X-Fi, Creative Zen Vision, Creative Zen Vision M, Creative Zen Vision W
iRiver E10, iRiver U10, iRiver Clix, iRiver B20, iRiver X20, iRiver Clix 2, iRiver E100, iRiver Lplayer, iRiver Spinn, iRiver D28, iRiver DICPLE D30, iRiver P10, iRiver P20, iRiver PMP-120, iRiver 140, iRiver IMP-1000, iRiver 1100
Sandisk Sansa AVI, Sandisk Sansa WMV, Sandisk Sansa MPEG-4
Nintendo Wii AVI
Toshiba Gigabeat WMV, Toshiba Regza Tablet MPEG-4
OS Support : Windows 2000 / XP 32 & 32 & 64-bit / Vista 32 & 64-bit / Windows7 32 & 64-bit / Windows8 32 & 64-bit : 2000*, XP, Vista (32bit & 64bit), Windows 7 (32bit & 64bit), Windows 8
1GHz Intel/AMD processor or above
256MB RAM (512MB or above recommended)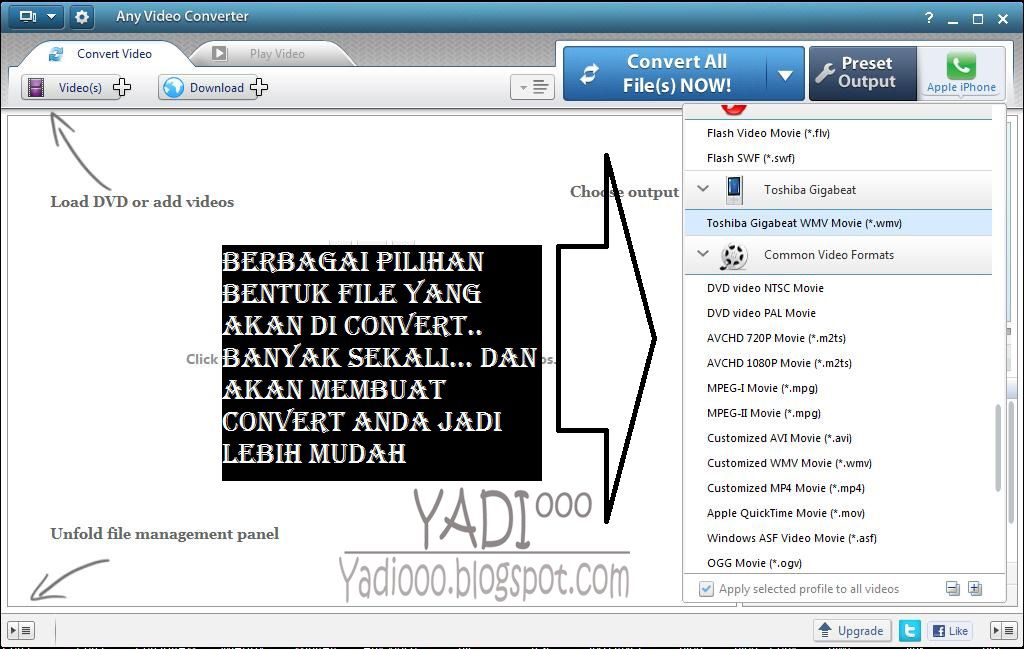 DOWNLOAD
ANY VIDEO CONVERTER v5.5.0.4 FREE
License: Freeware ( Gratis )
Download From Official Website
KLIK GAMBAR UNTUK DOWNLOAD

Sekian dari saya #ADMIN_J_Y, Semoga Artikel saya tentang DOWNLOAD ANY VIDEO CONVERTER v5.5.0.4 FREE FULL VERSION TERBARU, bisa memudahkan teman2 untuk mencovert video. Jangan Lupa Meninggalkan Komentar
Post By : #ADMIN_J_Y
SEMOGA BERMANFAAT
Share this